Kids City
---
Kids City – Phnom Penh
---
---
Kids City Project Notes
---
Project Description: Kids City is a new building in Phnom Penh, Cambodia . It is an eleven story building specialising in children's entertainment and retail. One floor is devoted to science exhibits. The Project involved 52 exhibits built in New Zealand. Themed banners and graphic panels were produced in New Zealand.
Exhibit table bases and a geodesic dome were built in Cambodia.
Completion date: mid 2013
Tim Stephenson Design's Involvement.
●Exhibition Design.
●Modular exhibit tables built in Cambodia.
●Themed banners.
●Some Exhibits.
●The Augmented Reality dome and handsets.
●Exhibit graphic explanatory panels.
●Lighting design.
---
downloadable pdf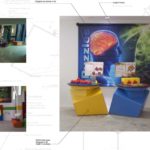 ---